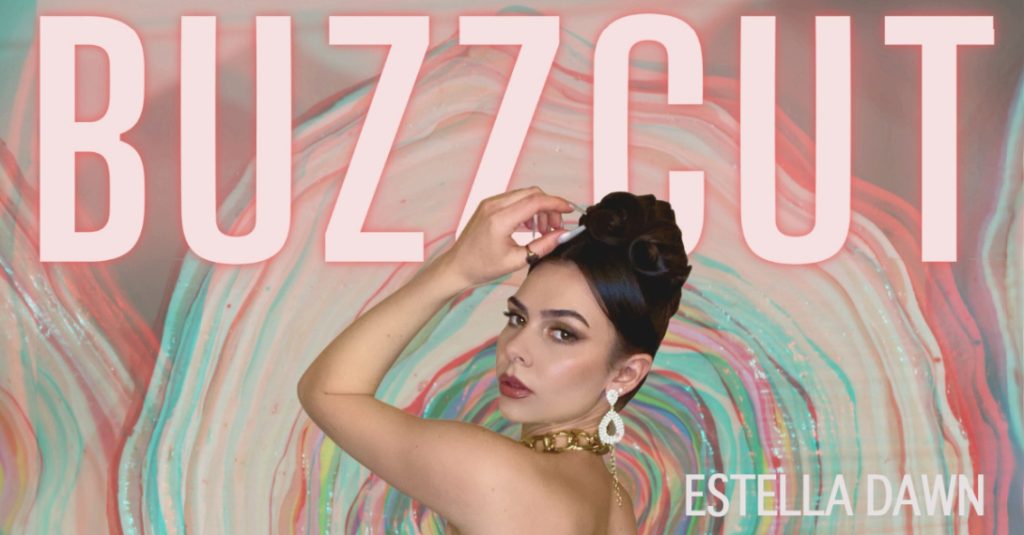 Denver, CO. "Chameleon daters" are people who change their appearance, style, musical taste, and even eating habits to mirror each new romantic partner. Estella Dawn, a constant observer, puts this theorem to good use in her most recent single "Buzzcut".
"I think as a women, we tend to do this more than men – we are conditioned to believe we have to shrink, re-adjust and mold ourselves to satiate the male gaze. "There are so many products telling us how we should look, feel and smell, and countless more movies and shows telling us how we should act and behave. In our quest to find this perfect partner I think we can often end up compromising a lot of what makes us unique and special.
I wanted to flip that narrative on its head with "Buzzcut". This song is about holding your shape when embarking on a new relationship, an encouragement to "stay true to your own authentic flare." To have someone be so enthralled with you that they would adjust themselves to better suit what they thought you wanted.
Estella Dawn, New Zealand born, US based pop artist, singer, songwriter, producer and multi instrumentalist, has the skills to not only have a creative vision but to guide that process through to a cohesive, fully formed, song. Her purposeful songs are often about empowerment and confidence and span various genres, reflecting the artist's skill and diverse creative output. She has organically grown her career and following with a consistent release of music that resonate with her personal reflections on life as a mid 20's woman in a complex, and sometimes overwhelming, world.
Along her current trajectory there have been many highs; her song 'I Dare You' charted on the media base Radio Top 40 chart, she's been interviewed by and had songs added to many radio stations and some big Spotify playlists. Her music has been compared to Halsey, Sia, PVRIS, Pink and other strong, independent minded artists and she's had many wonderful reviews by global music bloggers:
"Consistently one of indie's best producers, songwriters, artists Estella Dawn aims high and refuses to miss the mark." – Stereo Stickman – Rebecca Cullen
"Dawn is not only an insanely talented vocalist, but also a touching lyricist. She knows her way around capturing complicated feelings that are hard to describe and harder to process and putting them into words to create an addictive piece." – Rock Era Magazine – Viola Karmy
"Estella Dawn has the makings of a great artist and might surprise you. Remember her name, you will hear about her again." – Indie Music Center – Niko
"Estella Dawn is a talent that needs to get her time in the spotlight. The moment you hear her voice cut through you are reminded almost of an Alicia Keys-esc power ballad." – Hannah Schneider – Unheard Gems
"Buzzcut" is also the first single release from her highly anticipated full length album due out later this year. Having already released 17 singles since 2020 this album is the next step up, blending a cohesive mix of live musical arrangements, pop sensibilities and Estella's relatable, mature lyrics and Impressive vocal skills. Imagine SIA and Taylor Swift on a writing and recording retreat. There will be a steady release of singles from the album to wet your pallet and keep you anticipating what's next.
In the meantime, Estella is on a mission to live her best life and make music that encourages others to do so as well. Keep an eye on Estella Dawn, she clearly has a deep creative well to draw from. For more information on Estella Dawn visit: https://ffm.bio/estelladawn
In addition, the artist is open for reviews, interviews, and feedback from her audience.